Angular Contact Ball Bearing
---
The single row angular contact bearings can support the axial load in one specific direction. Its axial loading capacity depends on the contact angle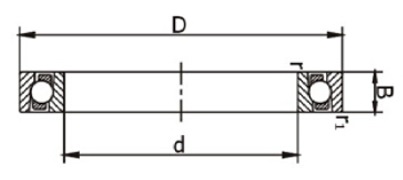 The single row angular contact bearings can support the axial load in one specific direction. Its axial loading capacity depends on the contact angle α. The bigger the contact angle is, the higher its axial bearing capacity is. The typical contact angle is 15°, 25°, and 40°.
This kind of bearing is divided into two types: separable and inseparable.
Metal solid cages are mainly used in single row angular contact ball bearings. Phenolic cloth laminated tube solid cages are usually used for high-speed applications, and the maximum temperature is 120°C.
Boundary dimensions

Basic load ratings

Designations

Mass

Installation dimension

Limiting

mm

kN

Current

Original

kg

mm

r/min

d

D

B

rmin

r1min

Cr

Cor

damin

Damax

ramax

rbmax

Grease

oil

150

190

20

1.1

0.6

53.5

74.5

71830AC

-

1.32

157

180

1

0.6

2400

3400

210

28

2

1

90

120

71930AC

-

3

160

200

2

1

2400

3400

225

35

2.1

1.1

153

130

7030 AC

46130

4.83

162

213

2

1

2000

3000

270

45

3

1.1

241

218

7230 AC

46230

12.1

164

256

2.5

1

1800

2600

320

65

4

1.5

360

375

7330 AC

46330

25.8

168

302

3

1.5

1700

2400

320

65

4

1.5

310

310

7330 B

66330

25.8

168

302

3

1.5

1600

2200

160

240

38

2.1

1.1

161

139

7032 AC

46132

5.81

172

228

2

1

2000

3000

279

40

2.1

1.1

204

182

-

46932

11.6

2000

2800

290

48

3

1.1

262

247

7232 C

36232

14.5

174

283

2.5

1

1800

2600

290

48

3

1.1

249

232

7232 AC

46232

14.5

174

276

2.5

1

1700

2400

170

215

22

1.1

0.6

80

110

71834C

-

2

2000

2800

230

28

2

1

110

140

71934C

-

3.3

180

220

2

1

2000

3000

260

42

2.1

1.1

193

171

7034 AC

46134

8.25

182

248

2

1

2000

2800

310

52

4

1.5

282

275

7234 AC

46234

17.4

188

292

3

1.5

1600

2200

310

52

4

1.5

320

325

7234 C

36234

17.2

188

292

3

1.5

1700

2400

180

280

46

2.1

1.1

194

230

7036 AC

46136

9.8

192

268

2

1

1600

2200

320

52

4

1.5

335

345

7236 C

36236

18.1

198

302

3

1.5

1500

2000

320

52

4

1.5

315

325

7236 AC

46236

18.1

198

302

3

1.5

1500

2000

380

75

4

1.5

405

445

7336 B

66336

37

198

362

3

1

1300

1800

190

260

33

2

1

139

177

71938AC

1046938

4.45

200

250

2

1

1800

2200

290

46

2.1

1.1

214

200

7038 AC

46138

10.7

202

278

2

1

1600

2200

340

55

4

1.5

280

370

7238B

-

23

208

322

3

1

1500

2000

200

250

24

1.5

1

90

130

71840C

-

2.5

208.5

241.5

1.5

1

1800

2200
Boundary dimensions

Basic load ratings

Designations

Mass

Installation dimension

Limiting

mm

kN

Current

Original

kg

mm

r/min

d

D

B

rmin

r1min

Cr

Cor

damin

Damax

ramax

rbmax

Grease

oil

200

280

38

2.1

1.1

150

210

71940AC

-

7.1

212

268

2

1

1600

2200

310

51

2.1

1.1

253

248

7040 AC

46140

14

212

298

2

1

1500

2000

360

58

4

1.5

375

410

7240 C

36240

25.2

218

342

3

1.5

1400

1900

360

58

4

1.5

355

385

7240 AC

46240

25.2

218

342

3

1.5

1300

1800

360

58

4

1.5

310

325

7240 B

66240

25.8

218

342

3

1.5

1200

1700

210

240

15

1.1

1.1

30

50

70842X3

-

1

222

287

2

1

1800

2200

220

300

38

2.1

1.1

200

250

71944AC

-

7.2

232

288

2

1

1800

2200

400

65

4

1.5

358

482

7244 AC

46244

38.5

1100

1600

240

320

38

2.1

1.1

203

285

71948 C

1036948

8.37

252

308

2

1

1200

1700

320

38

2.1

1.1

181

260

71948AC

1046948

8.37

252

308

2

1

1100

1600

320

38

2.1

1.1

161

233

71948 B

1066948

8.43

252

308

2

1

1000

1500

320

48

2.1

1.1

184

190

72948AC

2046948

10

252

308

2

1

1100

1600

440

72

4

1.5

420

490

7248 B

66248

50.9

258

422

3

1.5

1000

1500

260

320

28

2

1

127

190

71852AC

1046852

4.85

270

310

2

1

1400

1900

360

46

2.1

1.1

242

345

71952AC

1046952

13.5

272

348

2

1

1300

1800

400

65

4

1.5

291

431

7052 B

66152

28.5

278

382

3

1.5

1000

1500

480

80

5

2

456

702

7252 B

66252

66

900

1300

280

350

33

2

1

140

216

71856AC

1046856

7.2

290

340

2

1

1200

1700

380

46

2.1

1.1

226

337

71956AC

1046956

15

292

368

2

1

1100

1600

420

65

4

1.5

287

450

7056B

66156

30

298

402

3

1.5

900

1400

320

400

38

2.1

1.1

190

290

71864

-

10

332

388

2

1

800

1000

440

56

3

1.1

350

550

71964

-

25.5

334

426

2.5

1

800

1000

340

460

56

3

1.1

292

510

71968 B

1066968

27.5

354

446

2.5

1

800

1000

520

82

5

2

410

700

7068B

66168

63

362

498

4

2

800

1000

360

480

56

3

1.1

350

600

71972

-

29

374

466

2.5

1

800

1000
Boundary dimensions

Basic load ratings

Designations

Mass

Installation dimension

Limiting

mm

kN

Current

Original

kg

mm

r/min

d

D

B

rmin

r1min

Cr

Cor

damin

Damax

ramax

rbmax

Grease

oil

360

540

82

5

2

530

960

7072C

36172

62.4

382

518

4

2

800

1000

540

82

5

2

468

855

7072AC

46172

62.5

382

518

4

2

850

1200

650

95

6

3

585

1125

7272B

66272

145

700

950

380

440

25

3

1.1

110

178

7676 B

66776

7.1

960

1200

480

31

2

1

171

310.5

70876AC

7046876

13.5

850

1200

480

46

2.1

1.1

261.9

450

71876AC

1046876

18

392

468

2

1

1700

2400

520

65

4

1.5

369

661.5

71976AC

1046976

40.5

850

1200

520

82

4

1.5

407

733

72976AC

2046976

48.9

700

900

560

82

5

2

456

855

7076AC

46176

65.5

402

528

4

2

800

1100

560

82

5

2

421

792

7076B

66176

65.5

402

528

4

2

750

1000

400

540

65

4

1.5

380.7

702

71980AC

1046980

42

800

1100

600

90

5

2

544.5

1062

7080AC

46180

90.5

750

1000

600

90

5

2

474

918

7080B

66180

90.5

700

950

720

103

6

3

656.2

1350

7280B

66280

190

600

800

420

560

65

4

1.5

380.7

720

71984AC

1046984

44.5

434

546

2.5

1

750

1000

560

65

4

1.5

327

603

71984B

1066984

44.5

434

546

2.5

1

700

950

620

90

5

2

544.5

1062

7084AC

46184

95

750

1000

620

90

5

2

486

954

7084B

66184

95

670

900

440

600

74

4

3

456.3

936

71988AC

1046988

61

750

1000

650

94

6

3

585

1186

7088AC

46188

100

700

950

650

94

6

3

514

1060

7088B

66188

100

468

622

5

2.5

630

850

460

540

35

2.1

1.5

280

520

S7692

6792

14

472

528

2.5

1

750

1000

580

37

2.1

1

230

504

70892AC

7046892

24.5

474

566

2.5

1

750

1000

580

56

3

3

334

689

71892AC

1046892

34.5

474

566

2.5

1

750

1000

620

74

4

1.5

456

936

71992AC

1046992

58

850

1200
Boundary dimensions

Basic load ratings

Designations

Mass

Installation dimension

Limiting

mm

kN

Current

Original

kg

mm

r/min

d

D

B

rmin

r1min

Cr

Cor

damin

Damax

ramax

rbmax

Grease

oil

480

600

56

3

1.1

415

820

71896

-

35.5

494

686

2.5

1

850

1200

700

100

6

3

632

1377

7096AC

46196

125

508

672

5

2.5

630

850

700

100

6

3

561

1200

7096B

66196

125

508

672

5

2.5

560

750

500

620

37

2.1

1.1

248

558

708

/500AC

70468/500

27

514

606

2.5

1

670

900

620

56

3

1.1

351

765

718/500 AC

10468/500

38

514

606

2.5

1

670

900

670

78

5

2

498

1098

719/500 AC

10469/500

78

520

650

4

2

630

850

720

100

6

3

644

1440

70/500 AC

461/500

130

528

692

5

2.5

600

800

720

100

6

3

573

1260

70

/500B

661/500

130

528

692

5

2.5

560

750

508

600

30

2.1

1.5

150

320

76/508

-

16.5

670

900

530

650

56

3

1.1

369

837

718

/530AC

10468/530

39.5

544

636

2.5

1

1100

1600

650

56

3

1.1

351

810

718

/530B

10668/530

39.5

544

636

2.5

1

630

850

710

82

5

2

556

1206

719

/530AC

10469/530

92

552

688

4

2.1

1000

1500

760

100

6

6

680

1500

307368B

-

150

558

732

5

2.5

560

750

780

112

6

3

813

1944

70

/530AC

461/530

175

558

752

5

2.5

560

750

780

112

6

3

666

1530

70

/530B

661/530

175

558

752

5

2.5

500

670

560

680

56

3

1.1

341

837

718

/560AC

10468/560

41.5

574

666

2.5

1

600

800

750

85

5

2

533

1161

719/

560AC

10469/560

105

582

728

4

2

560

750

820

115

6

3

814

1944

70

/560AC

461/560

195

588

792

5

2.5

530

700

600

730

42

3

1.1

304

662

708

/600AC

70468/600

38.5

614

716

2.5

1

560

750

730

60

3

1.1

421

1044

718

/600AC

10468/600

47

614

716

2.5

1

560

750

800

90

5

2

644

1557

719

/600AC

10469/600

125

622

778

4

2

900

1300

870

118

6

3

796

1944

70

/600AC

461/600

230

628

842

5

2.5

480

630

670

820

69

4

1.5

498

1161

718

/670AC

10468/670

77

668

802

3

1.5

850

1200

980

136

7.5

4

1053

2790

70

/670AC

461/670

340

706

944

6

3

430

560
Boundary dimensions

Basic load ratings

Designations

Mass

Installation dimension

Limiting

mm

kN

Current

Original

kg

mm

r/min

d

D

B

rmin

r1min

Cr

Cor

damin

Damax

ramax

rbmax

Grease

oil

710

870

74

4

1.5

546

1467

718/

710AC

10468/710

93.5

728

852

3

1.5

800

1100

950

106

6

3

767

1980

719

/710AC

10469/710

195

738

922

5

2.5

800

1100

1030

140

7.5

4

1071

2925

70

/710AC

461/710

370

746

944

6

3

400

530

750

920

78

5

2

585

1620

718

/750AC

10468/750

110

772

898

4

2

400

530

1090

150

7.5

4

1170

3285

70

/750AC

461/750

445

782

1054

6

3

360

480

800

1150

155

7.5

4

1197

3420

70

/800AC

461/800

500

836

1114

6

3

340

450

850

1030

82

5

2

620

1674

718

/850AC

10468/850

140

872

1008

4

2

340

450

1220

165

7.5

4

1377

4185

70

/850AC

461/850

595

886

1184

6

3

300

400

900

1180

122

6

3

940

2670

719

/900

-

350

300

400

1280

170

7.5

4

1404

4410

70

/900AC

461/900

665

936

1244

6

3

280

380

950

1360

180

7.5

4

1467

4680

70

/950AC

461/950

805

986

1324

6

3

240

340

980

1100

60

4

2

515

1450

719

/980X1

-

65.6

240

340

1000

1220

100

6

3

831

2475

718

/1000AC

10468/1000

245

1028

1192

5

2.5

260

360

1420

185

7.5

4

1467

4860

70

/1000AC

461/1000

890

1036

1384

6

3

220

320

1060

1500

195

9.5

5

1512

5130

70

/1060AC

461/1060

1050

1104

1456

8

4

200

300

1120

1360

106

6

3

954

3375

718

/1120AC

10468/1120

320

1148

1322

5

2.5

200

300

1580

200

9.5

5

1548

5265

70

/1120AC

461/1120

1150

1164

1536

8

4

190

280

1140

1380

106

6

3

1180

3830

718

/1140AC

10468/1140

318

190

280

1180

1660

212

9.5

5

1566

5580

70

/1180AC

461/1180

1350

1224

1616

8

4

170

240

1250

1500

80

6

3

725

2430

708

/1250 AC

70468/1250

295

1278

1472

5

2.5

180

260

1500

112

6

3

1026

3510

718

/1250AC

10468/1250

390

1278

1472

5

2.5

180

260

1750

218

9.5

5

1602

5895

70

/1250AC

461/1250

1600

1294

1706

8

4

160

220
General
Short Description
The single row angular contact bearings can support the axial load in one specific direction. Its axial loading capacity depends on the contact angle