Introduction to Dimension, Type, Selection and Precision of Thin Section Bearings/ Designed for Lightweight Equipment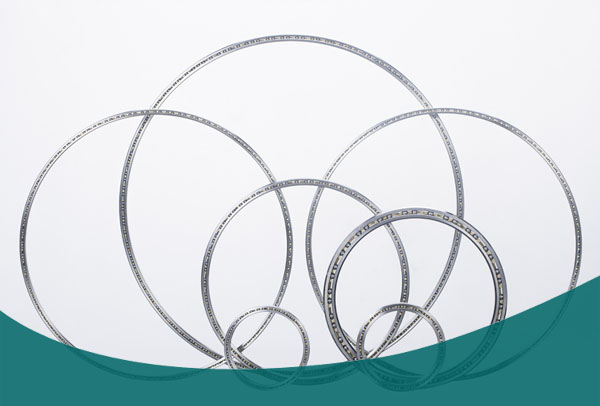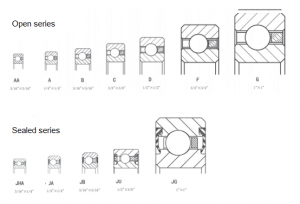 Dimensions
The range of cross-sectional areas is between 120.97 and 645.16 mm2, with an inner diameter ranging from 25.4mm to 1.3m.
Type
There are three main types of thin section bearing: thin section radial contact ball bearing, thin section angular contact ball bearing, and thin section four-point contact ball bearing. As shown in the pictures above, every kind of thin section bearings has ten different cross-sections, including seven open types (unsealed) and five sealed types; therefore, a thin section bearing has a vast loading capacity. The sealed type is only available for thin section radial contact ball bearing and thin section four-point contact ball bearing.
Selection
The most important thing for end-users to consider is the space requirements within the family of thin section bearings, and the next thing a designer needs to consider is working conditions. The thin section radial contact ball bearing mainly supports radial loads, double-direction axial loads, and combined loads. Thin section angular contact ball bearing supports radial loads and single-direction axial loads. Thin section four-point contact ball bearing supports radial loads, double-direction axial loads, tilting moments, etc. Thin section tapered roller bearing mainly helps radial loads and a certain amount of single-direction axial loads.
Except for the space and type of bearings, the other application, including operating environment, rotational performance, mounting conditions, precision level, clearance, lubricant, seals, and temperature, must be considered.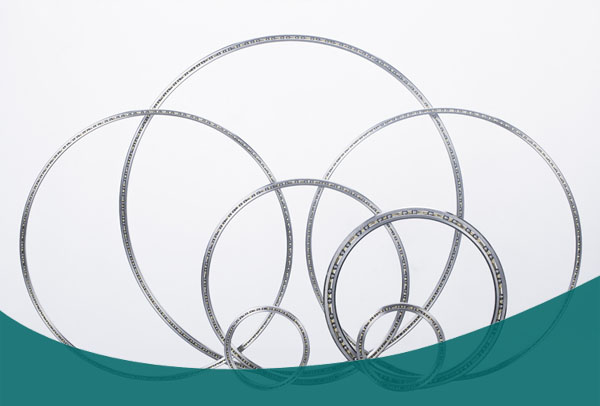 Precision Grade
Based on the American Bearing Manufacturers Association standards, the grades and tolerance specifications of thin section bearings come in five classifications: ABEC1, 3, 5, 7, and 9. The higher ABEC classes provide better precision, efficiency, and the possibility of more excellent speed capabilities but do not necessarily allow the components to spin faster. The ABEC rating does not specify many critical factors, such as load handling capabilities, ball precision, materials, raceway polishing, noise, vibration, lubricant, etc. Due to these factors, an ABEC 3 classified bearing could perform better than an ABEC 7 bearing. Therefore, working directly with a professional company is the key to making suitable bearings for specific applications.
In fact, with the same inner diameter, thin section bearing has more rolling elements than the standard bearings, which indicates that the contact areas between balls and raceway decrease, and thin section bearing are also susceptible to the rigidity of bearing housing. Therefore, thin section bearing has strict requirements for housing rigidity and tolerance. We need to apply preload to control the bending and increase the linear rigidity for a certain loading capacity. USHGT can meet the application requirements with a unique thin section bearing design tailored explicitly for optimum performance
The picture shows the relationship between axial bending and axial loading capacity of thin section bearing compared with lightweight bearing. Under an axial load, the bending is like the standard bearing when a thin section bearing is under the constraints. Therefore, the flexibility of thin section bearing rings can offset the housing with high rigidity.
Company Overview
US HGT TECH Corp. possesses a professional technical team with rich experience of over ten years, mainly engages in design, manufacturing, development, and sales service for Thin Section Bearings, Thin Section Crossed Roller Bearings, Precision Ball Bearings with large size and high speed, and other high precision bearings.
The objective of our company is to provide our customers with a high level of specialized bearing production expertise. If you have a particular application that may need a specially designed bearing product, please do not hesitate to contact us! We are confident that we have the capability of providing you with exceptionally well-engineered solutions, outstanding products, and unparalleled customer service.